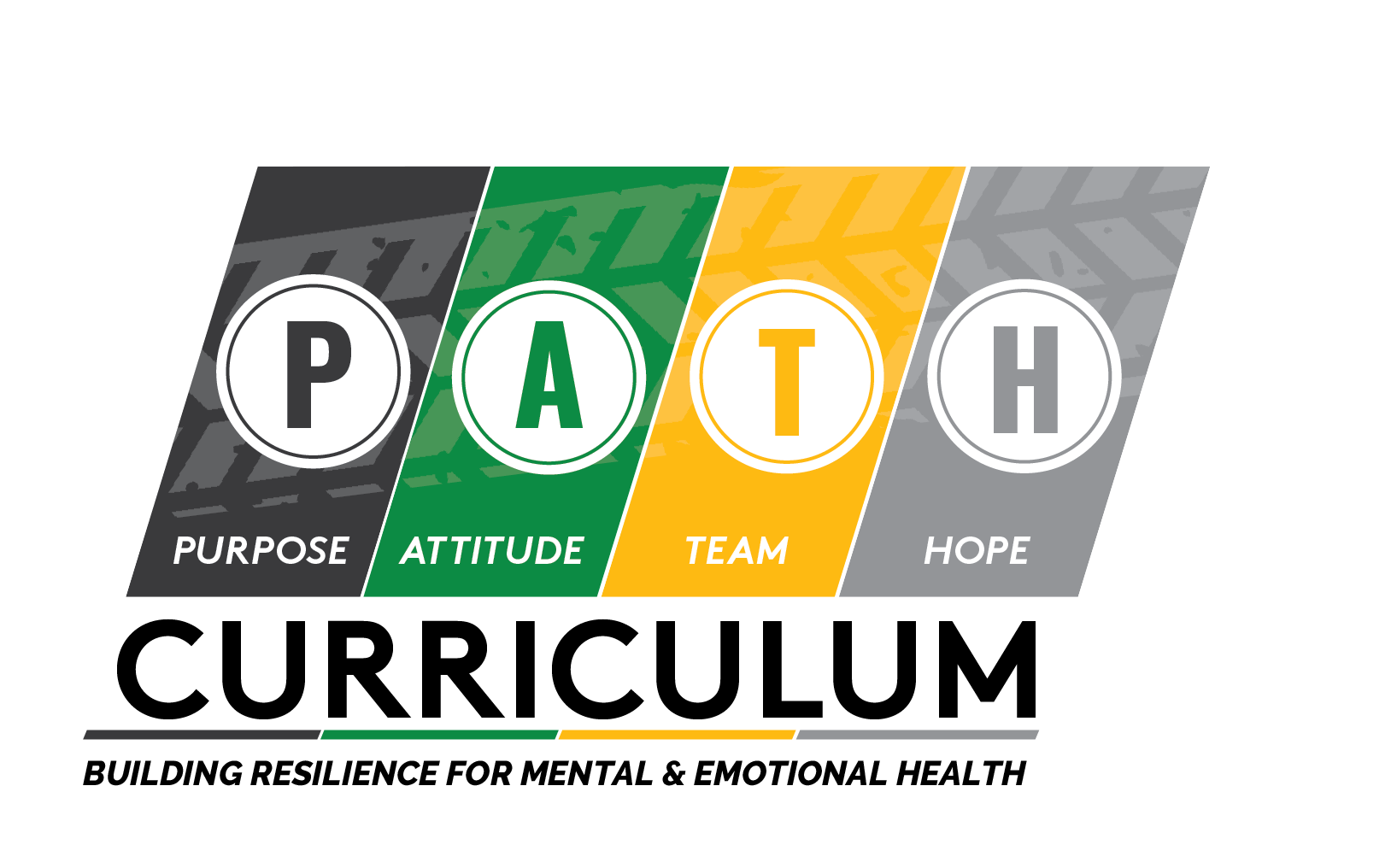 Invest in the mental health of your students!
Our nation is in the middle of a mental health crisis. The PATH Curriculum gives teachers tools to have important conversations with their students about mental health. We've created a six-lesson curriculum to be delivered by a teacher within grades 6-12. The curriculum integrates concise teacher instructions with student handouts, YouTube and short Impact Videos, peer empathy-building activities, projects, and student surveys.


Teachers, counselors, and adults who serve adolescents will find that PATH provides a key component that is missing in education today.
PATH's approach helps students:
find

P

urpose now

understand

A

ttitude's influence on growth and learning

choose a

T

eam of trusted people for advocacy and support

anticipate

H

ope for their future
PATH deepens students' understanding of mental health and suicide awareness, as it delivers a set of tools that can potentially serve them in every aspect of their lives.
What Schools Are Saying
"During the 2018-19 school year Tasha came to speak to our students about resiliancy and hope. Tasha really connected well with our students and had a great message. Due to this positive message and connection, we decided to use Tasha's mental health curriculum with our 8th grade students this year. There is such a need for mental health curriculum in a school setting. Our students were able to utilize the tools provided by Tasha's Friendship lesson. There was instant buy-in from students. They were both able to participate in a large group format and reflect as individuals. I recommend Tasha's PATH curriculum to any school looking to improve the mental health of their students."
Ryan Bargender, Principal, Abbotsford Middle and High School
"This past fall, my school piloted Tasha Schuh's PATH Curriculum Lesson 3 - The Power of Attitude and it was amazing! Tashe visited our school in September and left a lasting impact on our kids and staff, implementing her lesson was an excellent way to revisit her powerful message and continue to address the importance of positive attitudes and the power of choice. As a former classroom teacher and current school counselor, Tasha's lessons were very well-written and gave me plenty of material to keep my high school students engaged and involved in the lesson content. I was able to have some amazing conversations with my students and they very much enjoyed her games, lesson activities, and could connect with the lesson objectives and topics. Within my school we were able to adapt her lessons for both students in grades nine and twelve. With the continued increase in mental health needs in our school, this lesson (and all of her lessons) are great resources to address the topic and not only provide ALL teachers with tools to teach about mental but provide resources and tools for students as well. I cannot say enough good things about Tasha's work and her excellent teaching resources!"
Sarah Colling, School Counselor, Somerset High School
Founder of The PATH Curriculum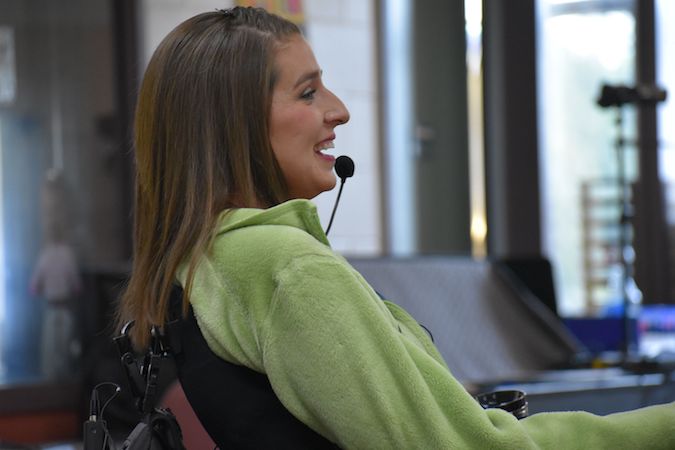 "I almost gave up hope. I nearly succumbed to a life far below my potential.
But I pushed through a life-changing theater accident (fell through a trapdoor) that left me paralyzed from the chest down and created a vibrant, fulfilling life.
I am a survivor, a believer, and a fighter.
And because my theater accident happened at the age of 16, I've dedicated my life to helping youth navigate struggles. I've poured every ounce of my pain and joy into this mission.
I travel across the country, speaking to schools and at youth conferences, imparting my message of hope and resilience. I inspire and challenge my listeners to overcome and persevere, no matter what life throws at them.
The importance of this message became painfully clear in 2014, when a close friend lost her son to suicide. Logan was only 14 years old. My PITCrew Concept and PATH Curriculum are a pledge to Logan which gives youth a voice to reach out, ask for help, and know that there is hope."
~Tasha Schuh
LESSON PLAN TITLES AND DESCRIPTIONS FOR THE PATH CURRICULUM:
Objectives and Learning Targets
Lesson One—Introduction to Tasha Schuh and the Power of PATH
Students will acknowledge how some events change lives forever and how the concept of PATH can teach resiliency to get through these life-changing events.
Students will be able to identify PATH (Purpose, Attitude, Team, and Hope) and how each of these helps identify their personal mental health and awareness of individuals around them.
Students will be able to define resiliency and its importance in their lives.
Lesson Two—The Power of Purpose in Our Race of Life
Students will assess their strengths, talents, and gifts to identify purpose and generate self-awareness.
Students will understand their importance and value in the world and that the choices they make matter.
Students will identify healthy coping mechanisms like writing privately, assessing the advantages to a private journal while considering other personal expression options like art, music, or movement.
Lesson Three—The Power of Attitude in Our Race of Life
Students will be able to define attitude and how it contributes to their own mental health.
Students will be able to list the five basic human emotions (sadness, fear, joy, anger, disgust) recognizing the challenge in finding balance for all.
Students will practice applying the power of attitude to potential life challenging situations.
Lesson Four—The Power of Team in Our Race of Life
Students will be able to define connectedness and how it supports healthy relationships and boosts individual well-being.
Students will assess their strengths within their own friendships and explore how they connect with people they identify as "friends."
Students will learn what contributes to a solid PITCrew Team and that it's okay to ask for help.
Students will identify their PITCrew Team with emphasis on ebb and flow. They must plan for inclusion while coping with team change over time. They will also share their PITCrew Team Boards.
Lesson Five—The Power of Hope in Our Race of Life
Students will be able to define hope and how it supports present and future positive thinking.
Students will analyze data and gather knowledge that validates the need for mental health education, acknowledging the wealth of resources available for suicide awareness and mental health support.
Lesson Six—Recap of PATH
Students will complete a self-assessment of PATH and how this tool may support mental health for themselves and others.
Students will reflect on the results of their Personal Growth Goal (PGG).
Have questions? Please email us at [email protected].
Frequently Asked Questions
What is the PATH Curriculum?
The PATH Curriculum is Tasha Schuh's response to the need for mental health and suicide awareness education. After many school presentations in her speaking career, Tasha and her team of professionals created a six-lesson curriculum designed to be delivered by a qualified teacher within grades 6 - 12. The curriculum is a mix of teacher instructions, student handouts, YouTube and short Impact Videos, peer empathy-building activities, projects, ​and student surveys, along with support from Tasha herself to ensure teacher facilitation of the online program.
How long is each of the six lessons?
Each of the six PATH Curriculum lessons is long enough to fill a traditional 45-50 minute class period, but includes bonus materials and extended projects to meet the needs of block scheduling.
What does the calendar for the lesson implementation look like?
Teachers may apply the six lessons to their calendars in a way that one lesson per week for six weeks could fulfill the PATH Curriculum's goals. However, lessons could be tackled every day, over the course of a quarter of health class. The longest this unit would last if every assignment and every bonus activity was utilized would be approximately 18 days, or about four weeks.
Who should use the PATH Curriculum?
Any adult assigned to lead middle and high school level students, ideally within grades 7 - 10, but with some modifications, could include grades 6 - 12. Teachers/leaders will find the PATH Curriculum a "ready to go" program. For example, teachers with classtime related to any of these topics will find the PATH Curriculum a valuable and engaging way to confront mental health and suicide awareness: health education, anti-bullying initiatives, school counselors, homeroom teachers, character education, enrichment time, grade level leaders, alternative education initiatives, ELA, science units related to the human body, psychology, or growth mindset, Self-Advocacy, and Peer or human relations.
Why was the PATH Curriculum created?
Tasha Schuh has been a national speaker for over 10 years, taking her message of resilience and hope across the country. Her passion to deliver this message to adolescents and youth has opened her eyes to changes in Mental Health and Suicide Awareness. She has observed a shift in the needs of students, teachers, administrators, and herself. This shift is what inspired her to want to do and give more to the schools that invite her to speak. Her goal is to help schools go deeper with her message and to give students the tools to be able to build resilience and hope in their own lives. This desire is what cultivated the PATH Curriculum. Tasha believes this curriculum will bring mental health education to the forefront of adolescent and young adult development, helping students, teachers, and administrators understand the social and emotional awareness necessary in a constantly changing and challenging world.
What is the main focus of the PATH Curriculum?
The PATH Curriculum focuses on Tasha's special acronym of PATH: PURPOSE, ATTITUDE, TEAM, and HOPE. The lessons have been developed for ease in teacher and student comprehension, cohesive progression in scope and sequence, and simplicity for teacher delivery. The PATH Curriculum complements Tasha's large group keynote presentation, yet thanks to Impact Video #1 (a core piece of Lesson 1), the curriculum may be implemented at your school without a personal visit from Tasha.
Who created the PATH Curriculum?
The PATH Curriculum was developed by Tasha along with a team of professionals, including a 35-year veteran public school teacher and a mental health counseling professional (CMHC). Tasha also employed a publishing team (editor, graphic designer, videographer) to focus on the format and delivery of colorful, engaging content, including graphic organizers, video content, PowerPoint slides, all with a clear, concise outline for instructor ease. Tasha's mission for a credible, understandable, and impactful curriculum has been over two years in the making. Piloted in a variety of schools, the PATH Curriculum has responded directly to school feedback, and it is now available to schools everywhere, at a price that ensures its affordability to all.
I still have questions. Where can I ask them?
If you have any questions, please email us at
[email protected]
and will get back to you as soon as possible!